Resin bound gravel is a well known material in the commercial sector, due to its strength and low maintenance properties. However, it is now becoming very popular in the residential sector too, due to this and for the fact that it's a very versatile, long-lasting solution.
There are many reasons why resin bound gravel is now one of the most popular additions to homes. We've put together some of the main benefits below if you're looking to update your driveway:
Long lasting and low maintenance
Here at SGS Surfacing, we only use the very best materials for our customers, this is why we use an industry leading resin that utilises the latest polymer technology. This produces stronger more resilient bonds which means that your resin bound gravel will be even stronger than those of competitors and will stand the test of time.
Once installed, resin bound gravel is one of the most low maintenance products on the market. It doesn't need much TLC, just ensure that it is swept and jet washed every now and then, to keep it looking its best.
Versatile
Resin bound gravel is an extremely versatile material and can be used in a variety of ways to create a really unique aesthetic for your home. It can be mixed with a wide range of different materials for different kinds of effects. For example, it can be mixed with stones or bricks to create different shapes, or to create steps and borders for planters. As it can be used in so many ways, you will truly have a unique, personalised improvement to your home.
Draining properties
One of the main benefits of resin bound gravel is that it has excellent draining properties. The technology in the resin allows water to go through it, so you will find no puddles or pools of water on the surface.
This feature is excellent in the cold winter months, as it reduces the risk of any pools of water freezing over and turning into ice, which can be very dangerous.
Wide range of colours
The gravel used comes in a wide range of colours, so there is a lot of choice for our customers. As there is such a variety of colours this means that it is possible to match the gravel perfectly to your surroundings and existing installations across your property.
Further to this, our resin is different to other resins on the market due to its colour. The most common resin used is a tar brown colour, which leaves a dark brown residue on the surface and in turn makes the overall gravel effect duller and darker. The type of resin that we use at SGS is a lot lighter in colour and when laid there is minimal colour change, offering a superior appearance.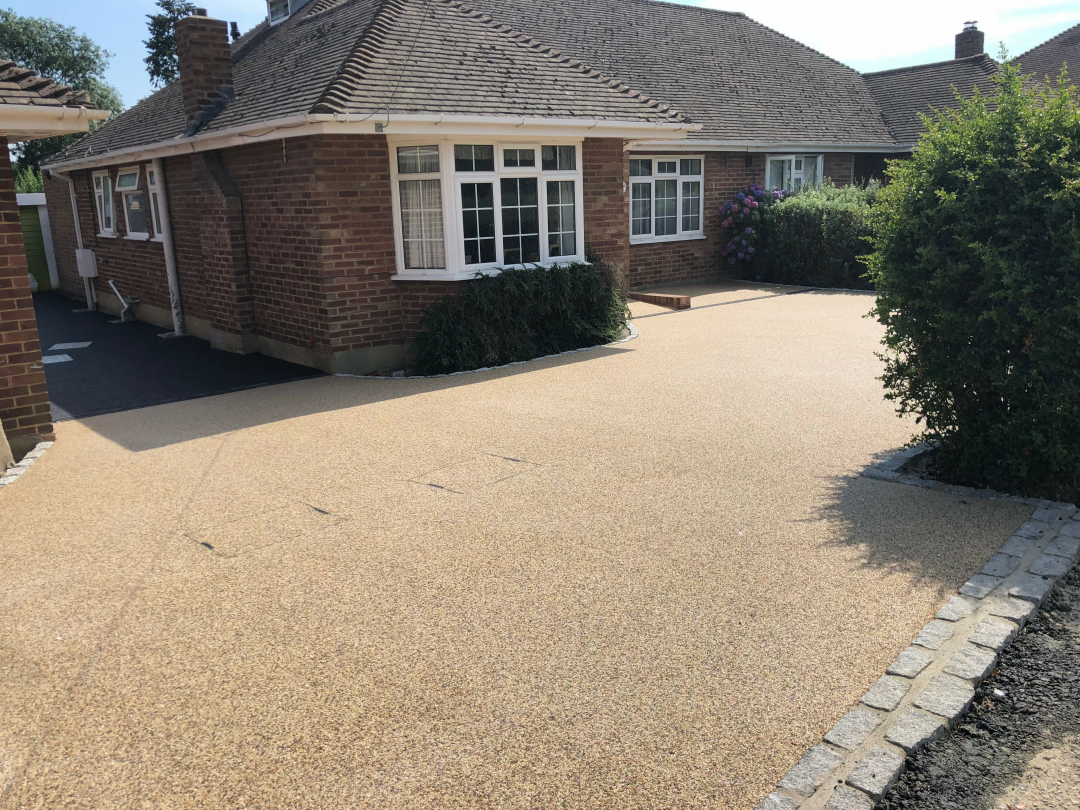 Spruce up tired driveways
One of the great things about resin bound gravel is that it can be placed easily on top of existing concrete or tarmac, rather than starting from scratch. This can make the process of installing the resin bound gravel on your driveway a lot quicker and can lower the costs.
Get in touch
If you would like to find out more about the benefits of resin bound gravel, or if you would like a free, no obligation estimate please contact us on 01403 581782 or [email protected]