2017 was a busy year for SGS Surfacing which saw us take on some exciting projects. One of these being the resurfacing of Fairoaks Airport in Woking. The project had a tight deadline and had to be completed whilst the runway was still in operation.
History of the runway
Fairoaks Airport was built in 1931 and in 1936 the Air Ministry claimed it for an airfield, with development taking place until 1937. During World War II, around 6,000 pilots were trained at the airfield.
Universal Flying Services then operated the facility before Douglas Arnold purchased it from the Ministry of Defence for £152,000 at a public auction. Our Managing Director Sam's Uncle acquired the airfield in 1972 where Alan Mann Helicopters operated until selling up in 2007.
The airport was also featured in Channel 4's popular series 'Hunted' in 2015 as the final meeting point for the fugitive contestants to reach in order to win.
Currently, Fairoaks Operations Ltd hold the CAA authority to operate as an Ordinary Licensed Aerodrome.
The project
SGS Surfacing were commissioned to resurface the Fairoaks runway in November 2017 as it had become worn with its constant use.
The runway is 900 metres long and 24,000m2 in total, and with only three days to complete the work due to the fact the runway couldn't be closed, it meant we had to work continuously. This involved long hours, even throughout the night, to ensure the job was completed in time and to the highest standard.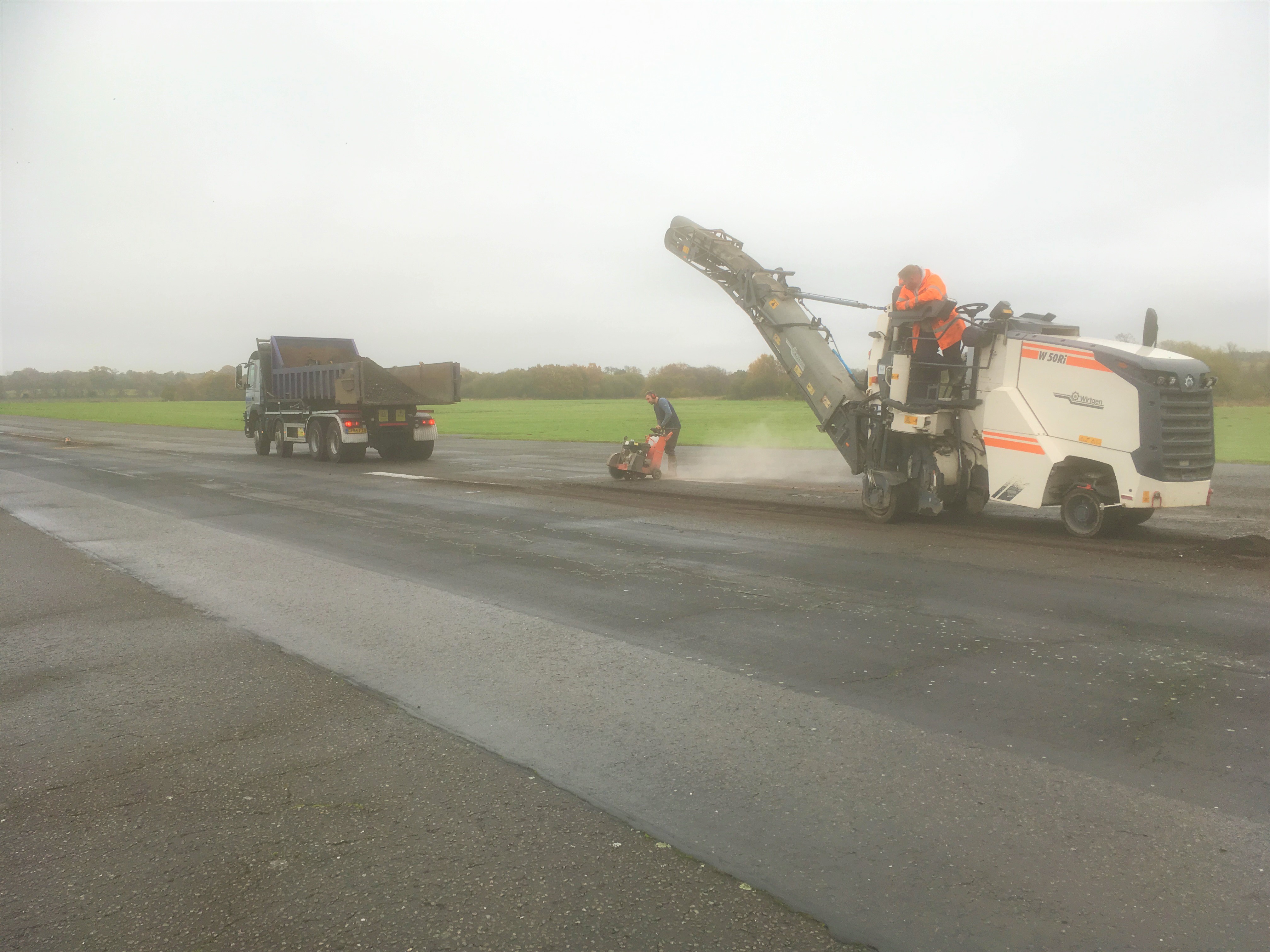 Surfacing and materials
The surface needed to be hardwearing and therefore we used stone mastic asphalt to resurface the runway. This material is the same as that used to surface motorways as it is extremely durable and rut resistant. Fortunately, this material is not weather dependant and this meant we weren't delayed by the rain and frost.
With all hands on deck and a lot of hard work, we were able to successfully complete the project on time and to the client's total satisfaction.
Sam, SGS Surfacing Director states, "This was a large scale project with a tight deadline and one we were thrilled to work on. Choosing the right materials was essential to ensure the safety of the runway and its longevity against constant use.
"I'm proud of the team for their hard work on this project and for the high quality results".
Get in touch
In addition to commercial work, we're experts in all types of paving and patios. If your driveway is in need of a refresh, or you are looking to have your patio redone in time for the summer, find out how we can help you here.
You can get in touch with one of our team by calling 01403 581 782, or 07710 391 625.