SGS Surfacing Ltd is a collection of vast experience from many different aspects of the construction industry with a sprinkling of business acumen, all rolled up in a successful and well run business.
Formed in 2014 by a super skilled ground worker and keen businessman we have added to our board of directors with some real talent for making plans a reality. Our unique approach to the business allows us to achieve high end results, using top quality skills and materials whilst maintaining a successful and viable business for the future. We really have gone from strength to strength and gained an excellent reputation in the local community and beyond. Servicing domestic and commercial customers with a vast number of services from driveways, patios and paving to resurfacing private roads and runaways.
Being a small team of close friends and family we really can ensure that customer satisfaction and high quality workmanship are at the forefront of every project. All of our team are capable, hardworking, and extremely polite as we understand that the upheaval of having work done can be stressful for all concerned.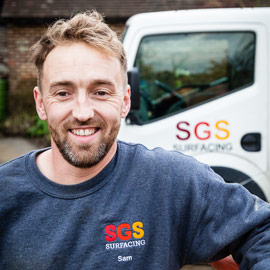 Since leaving the corporate world in London in 2014, Sam has been on a mission to build an honest and reliable surfacing company that brings old school values and quality into the 21st century.
"Investing heavily in the business for the last 8 years has been an easy decision as the results and growth have been impressive. SGS Surfacing really has gone from strength to strength with a team and equipment set up that is second to none. This combined with a genuine desire to do things properly results in a quality product and sustainable business".
Sam has been able to focus more on the clerical side of the business meaning that quotations are supplied quickly and organisation of resources is completed without the need to stop the guys on the ground. Sam continues to dedicate himself to the business and is always looking for new business and ways to make things run more efficiently.
Since joining the firm and taking over from Sam on the ground Lorne has really made his mark. Lorne has extensive knowledge of the Surfacing industry and has a real lead-from-the-front mentality which helped him integrate into the team well. Lorne has brought with him a level of attention to detail that is rare in today's world and has made the increased investment a real no-brainer.
On commercial Surfacing jobs Lorne takes on many roles and is firmly in charge of all aspects. His energy and straightforwardness makes him a firm favourite with our customers.
With over 7 years continuous service Tim is a reliable and extremely well liked member of the team with staff and customers alike. Tim has really developed in his time with SGS and the varied profile of work very much suits his can do attitude.
Tim is a key member of the tarmac team and is currently training to 'rake out' which is one of the most important and tricky parts of the job.
Maiko started working part time for SGS, but when his situation changed we jumped at the chance to bring him on full time. Being a previous business owner means Maiko has a way of getting things done with absolutely no fuss at all. Maiko is always smiling and is a pleasure to work with as you never need to ask him to do anything, it is already done or being done.
Zachary has been with SGS since he left school some 5 years ago and has developed into a responsible hardworking young man. His development has been unique as he really was dropped in at the deep end and has knowledge of many different parts of the industry. He is bright, hard working and has a wonderful way with our customers.
Zachary is currently being trained on the 'finishing' of tarmac which is another vital part of the job.
Taking a punt on someone with no prior experience really paid dividends with Szymon. His enthusiasm and work ethic makes him such a valuable member of the team. With a very practical background, Szymon hit the floor running and is already trusted with lots of different tasks and frequently exceeds expectations.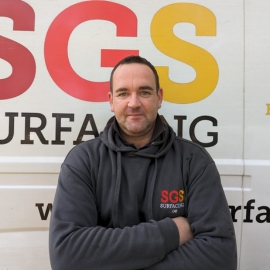 Joe has really settled into the team and has proven himself time and time again as an indispensable part of company. His journey with us has been a tale of dedication, growth and a genuine commitment to our shared vision of excellence. With a wide range of practical experience and hands on approach joe has become an invaluable asset towards our projects.
Cole is the latest addition of the SGS Surfacing team. Cole has quickly become an integral part of the team, bringing a fresh perspective, an abundance of enthusiasm to the table and has seamlessly integrated into our close-knit team. Hailing from an experienced practical background, we are thrilled to welcome his positive influence and skills to the team and to enhance our projects.
Meet Fern, with a background in administration, operations and HR, Fern is set to be the driving force behind the scenes, ensuring our operations run seamlessly. With a knack for handling intricate details and creating efficient workflows, this makes her a perfect fit for the team. Fern is our first point of contact for our customers and is dedicated to providing a high standard of service. Her background in technology uniquely positions her to streamline our processes and elevate our customer service.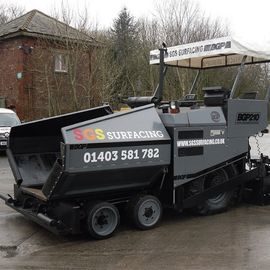 We needed a bit of muscle on the team – someone with a lot of stamina and drive – so in rolled Burt. Big B is our BGP210 Asphalt Paver. Big Burt has a real passion for tarmac and asphalt, and even without any previous work experience on his CV it's clear he was absolutely made for this job.