SGS Surfacing Ltd is basically a collection of vast experience from many different aspects of the construction industry with a sprinkling of business acumen, all rolled up in a successful and well run business.
Formed in 2014 by a super skilled ground worker and keen businessman we have added to our board of directors with some real talent for making plans a reality. Our unique approach to the business allows us to achieve high end results, using top quality skills and materials whilst maintaining a successful and viable business for the future. We really have gone from strength to strength and gained an excellent reputation in the local and not so local community.
Being a small team of close friends and family we really can ensure that customer satisfaction and high quality workmanship are at the forefront of every project. All of our team are capable, hardworking, and extremely polite as we understand that the upheaval of having work done can be stressful for all concerned.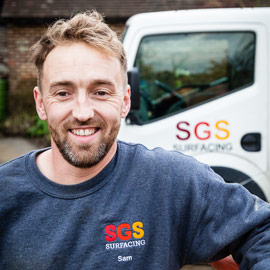 Sam was instrumental in the formation of SGS Surfacing Ltd and brought his skills for all things business related from years running a large corporate company in London. Going to back to his roots was an easy decision as Sam's Father had a very successful building company in West Sussex for three decades where Sam learnt excellent practical and organisational skills.
Having joined SGS in 2018 Lorne saw the potential in the business immediately and wanted to be a part of taking it to the next level. Having worked locally for a well respected asphalt and surfacing company for over 20 years Lorne brought experience and skills that have been priceless to SGS Surfacing.
His work ethic and organisational skills are second to none with a real 'Lead from the front' attitude.
Tim is the newest member of the board and started with us as a skilled tradesman, laying bricks and paving slabs. His all round knowledge, friendly nature and work ethic made him a stand out performer within the team. This was quickly recognised and rewarded immediately ensuring SGS Surfacing Ltd would not be without him.
Jack was brought in a few months after the business opened and quickly became a hugely valuable asset to the company. His attention to detail and organisational skills make him extremely highly regarded by the rest of the team. Jack has a vast array of talents and an excellent work ethic which is apparent on every project large or small.
Zach is in his third year with SGS now and has developed into a helpful and responsible young man. His good nature with customers and his colleagues is way beyond his years and with proper guidance and managed development he is key to SGS completing jobs in a timely fashion.
George came on part time with SGS to help in our busy summer months but quickly became a calm and hard working asset that we decided was needed full time. Having taken this leap of faith George has progressed well and has become well liked and respected for his reliability, work ethic and can do attitude.
Matt is the newest member of our team and was taken on as foreman to assist in the day to day running of the sites. His skills in a digger and vast knowledge of everything groundwork related make him invaluable to SGS. Matt has a very calm and methodical approach to every job which makes him the perfect person to lead a driven and hardworking group of men.